PEAK Continually Increasing Spending on Research and Develop to Improve the Market Competitive Power.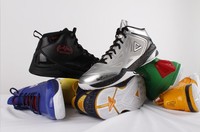 With the change of consumers needs and the sport goods market, technology and the ability of innovation will become the key factor to Sports Company. For decades, PEAK took technology and innovation as the core competitiveness.

According to the recent published data, PEAK invests nearly 70 million in research and development in 2013. Currently, PEAK has four R&D centers, separately in Quanzhou, Beijing, Guangzhou and Los Angeles, totally has 255 professional talented designers. Only in 2013, PEAK launched 623 new style shoes and 1439 new apparels.

At the same time, many PEAK products are highly commended by customers and professional website. PEAK lightning TP9 and George Hill big triangle are named "the 10 best sneakers of 2013 awards" by Counterkicks and "the 10 best sneakers worn in the NBA of the year "by American professional sneaker website Complex Sneaker news.